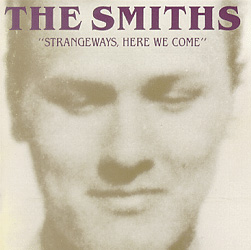 click to view:
usual UK, Israel, Japan-post-1990 cd UK cd, green titles WEA cd USA/Canada cd Australia cd on Festival LP LP, green titles 10" LP usual UK cassette UK cassette, green variation USA cassette Spain, France cassette Canada cassette WEA cassette WEA cassette, green titles inside cd inside LP inside cs inside WEA cassette USA cd longbox original UK LP back original UK cd back WEA cd back USA cd back
"Strangeways Here We Come"
September 1987

A Rush And A Push And The Land Is Ours
I Started Something I Couldn't Finish
Death Of A Disco Dancer
Girlfriend In A Coma
Stop Me If You Think You've Heard This One Before
Last Night I Dreamt That Somebody Loved Me
Unhappy Birthday
Paint A Vulgar Picture
Death At One's Elbow
I Won't Share You
UK CD [Rough Trade ROUGHCD106]
UK CS [Rough Trade ROUGHC106]
UK LP [Rough Trade ROUGH106]
UK LP [Rhino UK ROURH106; 2009 reissue on 180g LP]
UK/Europe CD [2012 reissue on Warner/Rhino 2564660482]
UK/Europe LP [2012 reissue on Rhino Records 2564665879]
Australia LP [CBS 460230-1]
Australia LP [1988 reissue on Festival L30110]
Australia CS [CBS 460230-4]
Australia CS [1988 reissue on Festival C30110]
Australia CD [1988 reissue on Festival D30110]
Australia CD [1993 reissue on Warner Australia 450991899-2]
Brazil CS [WEA 767.4099]
Brazil LP [WEA 670.4099]
Canada CD [Sire CD-25649]
Canada CD [Columbia House W2 25649; record club edition]
Canada CS [Sire 92 56494]
Canada CS [Columbia House W4 25649; record club edition]
Canada LP [Sire 92 56491]
Europe CD [WEA 450991899-2]
Europe CS [WEA 450991899-4]
Europe 10 [WEA 450991899-1]
France CD [Virgin 030262]
France CS [Virgin 50561]
France LP [Virgin 70561]
Germany LP [RT Deutschland RTD60]
Greece CS [Virgin TC VG 50300]
Greece LP [Virgin VG50300]
Holland LP [Megadisc MD7920]
Indonesia CS [King's K 1.430 AED]
Indonesia/Saudi Arabia CS [GL/Gamava Records G-1253]
Ireland LP [Rough Trade ROUGH106]
Ireland(?) CS [Rough Trade ROUGH C106]
Israel LP [CBS ROUGH106-1]
Israel CS [CBS ROUG 106-4]
Israel CD [WEA/Hed Arzi 91899-2]
Italy LP [CGD RGH20697]
Italy LP [Rough Trade ROULP 106]
Italy CS [CGD 30RGH20697]
Italy CD [Rough Trade CDROUG106]
Japan CD [Victor VDP-1278]
Japan CD [1990 reissue on Victor VICP-2006]
Japan CD [1993 reissue on WEA WMC5-548]
Japan CD [1995 reissue on WEA WPCR-307]
Japan CD [2006 reissue on WEA WPCR-12444]
Japan CS [Victor VCL-10038]
Japan LP [Victor VIL-28100]
Philippines LP [Backbeat ROUGH106]
Philippines CS [Backbeat ROUGH C106]
Portugal LP [Rough Trade 12ROUGH106]
Portugal CS [Rough Trade ROUGH C106]
Saudia Arabia CS [Thomsun Original EN-1903]
Spain CS [Nuevos Medios 44 273 C]
Spain LP [Nuevos Medios 43 272L]
Sweden CS [MNW ROUGH C106]
Sweden LP [MNW ROUGH106]
Taiwan CS [Crystal ROUGHC106]
USA CD [Sire 9 25649-2]
USA CD [Columbia House W2 25649; record club edition]
USA CD [BMG Direct D102696; record club edition]
USA CD [2012 reissue on Sire/Rhino R2 25649]
USA CS [Sire 9 25649-4]
USA CS [Columbia House W4 25649; record club edition]
USA LP [Sire 9 25649-1]
USA LP [Columbia House W1 25649; record club edition]
USA LP [Rhino R1 520966; 2009 reissue on 180g LP]
Additional information:
The German LP is available in two different vinyl colors, charcoal or plain black.
"Strangeways Here We Come" was the first album by the Smiths to be simultaneously released on all three formats in the USA.
The 2006 Japanese cd reissue is slipped inside a mini-replica of the original Victor Japan LP sleeve. Even the inner sleeve, obi and label are replicas of the ones from the original LP pressing.
The picture disc LP edition (with the album's front artwork onto vinyl) is actually a bootleg reproduction made in 2007.
The UK edition of the 2009 LP reissue includes a coupon with an offer to download the album on MP3 format. This was not offered with the USA edition.
The 2012 UK/Europe Rhino reissues on compact disc and LP are identical to the editions found inside the 2011 "Complete" box set.
Artwork information:
Richard Davalos from the collection of David Loehr, photographed during the filming of "East Of Eden". The size of the album title varies on some cds. The WEA cassettes were redesigned to be more similar to the LP and compact disc artwork.
The colour of the text and the tint of the image vary from one country to another, and sometimes even within the same country, particularly the UK. One collectible colour variation is the one where the title and band name appear in green. This has been reported for UK releases on all three formats. It must be mentioned that the original cassette cover was already designed in a different tint to the LP and CD.
The inside photo displayed in the left section of this page is found inside the cd booklet, the cassette inlay and on each side of the LP inner sleeve.
The artwork for the 2006 Japanese cd reissue in mini-LP sleeve follows the LP model instead of the cd one.
Etchings on vinyl:
UK LP: GUY FAWKES WAS A GENIUS / none
(only on original Rough Trade release and Rhino reissue, not on the WEA reissue)
Additional release date information:
UK: 28 September 1987
USA: 22 September 1987
UK/Europe WEA re-release: 15 November 1993
Australia WEA 1993 re-release: 12 December 1993
Japan WEA 1993 re-release: 10 December 1993
Japan WEA 2006 re-release: 13 September 2006
UK 2009 reissue: 6 July 2009
USA 2009 reissue: 25 August 2009
UK 2012 reissues: 26 March 2012
USA 2012 cd reissue: 3 April 2012
Chart peak information:
UK: 2 (36 when reissued at mid-price in 1995)
USA: 55
Certifications:
UK: Gold on 1 October 1987
USA: Gold on 19 September 1990
Promotion:
UK: White label copies of the LP were sent to media and record shops for promotion. These often included a 12"x24" promo poster and sometimes a postcard or a badge.
Australia: Stock copies of the original Australia LP on CBS were made into promos by having a "sample record not for sale" sticker on the reverse of the cover. The 1988 reissues on Festival Records were promoted via stock LPs with a promo sticker on the label.
Brazil: Stock copies of the LP with a gold promo stamp on the back and a promo warning stamped in ink across the labels were sent to media for promotion. A various artists promo EP from 1988 featuring "Girlfriend In A Coma" (6WP.0012/#9) was slipped inside a blue and yellow sleeve.
Canada: Copies of the LP were stamped in gold on the back with a promo warning.
France: Copies of the original LP edition were stamped with the promo warning "Disque gratuit interdit à la vente", the words forming an embossed circle in the top right corner of the sleeve.
Germany: A 5-page press release, a promo photo and a merchandise mail-order postcard were inserted inside stock copies of the LP and sent to media. Shortly after, in 1988, "Girlfriend In A Coma" appeared on a label promo sampler titled "Line - Der Sampler Nr 26" (LICD 9.00346).
Israel: Stock LPs with a record company sticker on the back of the sleeve were used to promote this album.
Italy: The album was somehow promoted with jukebox 7"s of "Girlfriend In A Coma" backed by New Order's "True Faith".
Japan: Promotion of the original release was done via promo LPs and promo CDS. The former had a red promo sticker around the top edge of the sleeve and the usual extra 3-character promo text printed on the label while the latter, just like the 1990, 1993 (and possibly 1995) reissues, have a promo sticker on the back of the case or obi, and promo text etched on the cds' inner ring. The promo cd for the 2006 reissue in LP-replica sleeves have a white and red promo sticker over the barcode on the back and 'sample loaned' etched on the cd's inner ring.
USA: Promo-stamped copies of the LP were the main means of promotion of this album. Two one-track 12"s were also produced for the same purpose. The first one, featuring "Girlfriend In A Coma" (Sire PRO-A-2843, no artwork), was sent to media around the time of the release of the album. The second one, featuring "Stop Me If You Think You've Heard This One Before" (Sire PRO-A-2893, no artwork), was distributed shortly after. The latter song was also released as a commercial 7" single in that country. Advance promotional work was done via a very limited advance cassette featuring the complete album. "Girlfriend On A Coma" was included on a various artists promo cd titled "Music For The Starving Millions" (Warner PRO-CD-2831). The video for "Girlfriend In A Coma" was included on two different promo video compilations from the record label. The first one was dated 10-05-87 and numbered MiniComp#25 while the other was from 1988 and numbered MiniComp#62. A promo video interview of Morrissey and Marr titled "In Conversation" was sent to some media around the release of "Strangeways Here We Come".
Quotes
"I feel at the moment that almost anything absurd can happen. And if I ended up in Strangeways I wouldn't be at all surprised."
- Morrissey, Q, 1987
"It's a very uplifting record, even if the titles lead one to consider it a rather dour record. I don't know how far my judgement is valid - being an obviously immensely depressed person - but it's not really morbid."
- Morrissey, Q, 1987
"The stuff we've just done for the new album is great, the best we've ever done. I'm really proud of it."
- Johnny Marr, post-split, NME, 7 August 1987
"Strangeways perfects every lyrical and musical notion The Smiths have ever had. It isn't dramatically, obsessively different in any way and I'm quite glad it isn't because I've been happy with the structure we've had until now. It's far and away the best record we've ever made. I expect when the dust has settled after 'Strangeways' there will have to be some degree of rethinking, because we can't go on forever in our present form. Inevitably certain aspects of the band would become tarnished, so a slight readjustment will have to be made. I think now is absolutely the right time to do it. When something becomes too easy and it's all laid out for you, one is robbed of the joy of achievement. When there's no need to fight any more, it'll be time to pull up the shutters on the Smiths."
- Morrissey, Melody Maker interview, September 1987
"I think my singing has got better, it's changed over the years. I think it was at its best around Strangeways, Here We Come which was due to extensive touring and really pushing your voice beyond the boundaries, and that really helped."
- Morrissey, NME, 18 February 1989
"With the Smiths, I'd take this really loud Telecaster of mine, lay it on top of a Fender Twin Reverb with the vibrato on, and tune it to an open chord. Then I'd drop a knife with a metal handle on it, hitting random strings. I used that on "Stop Me If You Think You've Heard This One Before" for the big "doings" at the start... Musically, the production was my responsibility. But to be fair, it was a 50/50 thing between Morrissey and me. We were completely in sync about which way we should go for each record. But we started to lose that near the end of the last LP, which was another signal to me that we should stop. The White Album was the strongest influence on us towards the end, things like 'Cry Baby Cry' and 'I'm So Tired'... The solo on 'Paint A Vulgar Picture' was done on a Strat. I was really pleased that the first solo as such on a Smiths record was one you could sing... I liked the melody at the end of 'Stop Me If You've Heard This One Before,' but it just felt a little too accomplished. I wanted it to sound like a punk player who couldn't play, so I fingered it on one string, right up and down the neck. I could have played it with harmonics or my teeth, or something clever, but the poignancy would have gone out of the melody."
- Johnny Marr, Guitar Player, January 1990
"I'll tell you one thing about 'Strangeways' - I don't think there'll ever be, and I don't think there ever was, a band that would put an LP of songs like that together. Because, you know, what is it? Is it rock? Is it pop? Is it rockabilly? I mean, you put 'Death Of A Disco Dancer' on a jukebox, it's not gonna get played very often, is it?"
- Mike Joyce, Select, April 1993
"Oh, I mean, the pressure was really on Johnny to write a better album than 'The Smiths,' 'The Queen Is Dead' or 'Meat Is Murder,' every one of them. It had to be the best album ever written by The Smiths. And the pressure was on Morrissey to come up with a killer lyric. And I was boozing a lot - brandy, we were all drinking a lot of brandy. I don't mean in the bathroom - gargle, gargle - there was none of that shit going down. (Andy laughs) Maybe there was, alright. He's laughing cos he caught me one morning. But, yeah, there was a lot of pressure on Johnny. And that's why 'Strangeways' to me sounds like a total white-knuckle ride. We were very tense. But we were playing together really well, better than we'd ever played before. I wish we'd toured 'Strangeways...'"
- Mike Joyce, Select, April 1993
"... to me 'Strangeways' is like the heaviest album to listen to. You don't put that one on when you fancy some nice easy listening."
- Mike Joyce, Select, April 1993
"'Strangeways' suffers because it was our last record, so people think there were arguments and horrors in making it, but there weren't. Morrissey and I both think it's possibly our best album. (...) 'Strangeways' has its moments, like 'Last Night I Dreamt That Somebody Love Me'. Last time I met Morrissey he said it was his favourite Smiths song. He might be right. Over the last few years I've heard 'Girlfriend In A Coma' in shops and people's cars, and I'm always surprised by how good it sounds. 'Unhappy Birthday' I really like."
- Johnny Marr, in an interview by Stuart Maconie, Select, December 1993
"'Strangeways Here We Come' is the Smiths best album. Well it is. We're in absolute accordance on that. We say it quite often. At the same time. In our sleep. But in different beds. (...) Strangeways, Here We Come said everything eloquently, perfectly at the right time and put the tin hat on it basically."
- Morrissey commenting on Johnny Marr's opinion, interview by Stuart Maconie, Q, 1994
"On Strangeways, you got the impression that Johnny didn't know what Morrissey had prepared for it. We were putting the backing tracks down totally blind, just making sure the key was OK with him."
- Stephen Street, Q, January 1994
"I still think Strangeways, Here We Come is the best record. I get really pissed off with this critical cliche, like, they've swept Strangeways under the carpet."
- Grant Showbiz, Q, January 1994
"Actually, it's my favourite Smiths album. We split after we recorded it and they were good sessions. One or two of the songs are acoustic-led (Girlfriend In A Coma and Unhappy Birthday) which I really liked - now that was an organic record. I wanted the electric guitar parts a lot less layered and with a lot more weight, which you can hear on I Started Something I Couldn't Finish. The stuff that wasn't acoustic was mainly led by my 355 12-string; in fact, a lot of the songs - I Started Something..., Paint A Vulgar Picture and Stop Me If You've Heard This One Before - were written on that guitar. It gave a really big sound. I wanted to make sure my main guitar parts really counted and stayed on the record. Often, before, I had changed the main foundation at a later date, but that didn't happen with Strangeways."
- Johnny Marr, The Guitar Magazine, January 1997
"They are great songs. You know, occasionally, as I'm rolling out pastry, I find myself singing 'Death Of A Disco Dancer'."
- Morrissey, Melody Maker, 9 August 1997
"Strangeways was always my favourite, because I think that it's a brave record. There was an atmosphere that needed to be captured on that record, that I wanted to capture, and the way to do it is to leave some things open, and not to cram it with too much stuff, and I think that takes a certain sense of purpose, and bravery. So the production doesn't have tons of overdubs, and the songs breathe a little bit, and it has a slightly unresolved atmosphere. There is space in it, and that was a conscious thing. I knew that the record was good at that time."
- Johnny Marr in a Q&A, theartsdesk.com, August 2013
Reviews
"Maybe as good as 'The Queen Is Dead', but probably not better. ('Paint A Vulgar Picture' — aka 'Dear Prudence' and 'Death Of A Disco Dancer' — aka 'Strawberry Fields' though, are classics.)"
- Dylan Jones, i-D, 1987
"A solid and mature album recorded as The Smiths disintegrated. Marr's doomed ambition to escape the band's perceived indie status is evident in the experimental grandiosity of "Death Of A Disco Dancer" and "Last Night I Dreamt That Somebody Loved Me". Morrissey is on champion acid form, trashing record company politics in "Paint A Vulgar Picture" and broaching yet another pop taboo with the gorgeous "Girlfriend In A Coma". A bold and bittersweet swansong." (****)
- Stephen Dalton, Uncut, 1998
"Just why did such a formidable percentage of Eighties youth, saturated by synthesiser drivel and the thundercloud of Thatcherism, seek shelter and much emotional solace in a fistful of gladioli, the complete works of Oscar Wilde and a conspicuously unnecessary pair of National Health spectacles? Those kitchen-sink survivors - who bought the records, wore the glasses, and devoted solitary weekends fanatically memorising passages from A Taste Of Honey - are quick to remind the culturally parched that aside from being the greatest pop group this century, The Smiths were very much a way of life.
It's a testament to the talent and vision of The Smiths that they inspired such idolatrous worship from as ruthlessly committed a fanbase as pop music has ever spawned - and achieved a status that even the most modest critic would be compelled to term "legendary" - in less than five years and just four studio albums.
Their eponymous debut in 1984 was compositionally flawless, yet the general consensus was that The Smiths was not the generation-defining platter it perhaps could have been. 1985's Meat Is Murder was a confident step forward, the record's inflammatory sentiments and lyrics hinting towards the more sensationalist set-pieces to follow - but it was 1986's The Queen Is Dead that finally propelled The Smiths into an orbit unique within the tired, unchallenging climate of mid-Eighties pop. From its opening charge on the palace gates to the anthemic fantasies of falling under the wheels of a 10-ton truck, the album proved conclusively that, as a lyricist, Morrissey could juggle deadpan wit with a soul-chilling self-deprecation, while - as composer, arranger and co-producer - Johnny Marr was pop's Michelangelo in an age of timid Tony Harts.
In early 1987, the group entered the studio to record their fourth album. But between its reportedly smooth, tantrum-free recording and its eventual release that autumn, without warning The Smiths imploded, almost overnight.
From the moment "Girlfriend In A Coma" had the dubious honour of being previewed the very evening Radio One announced Marr's split from the group, the ensuing album was cursed with the adverse status of a bitter, cryptic postscript to a brief but glorious career.
Consequently, the album became a focus of lamentation for the group's obsessed and grieving fans. Reviews became post-mortems, critics looking for clues to explain The Smiths' unexpectedly premature demise. Which meant that whatever hopes the group may have had for the way the album would be received were eclipsed at a stroke by the bewildering void left by their own sudden disintegration.
The record's typically fatalistic lyrical motifs suddenly acquired a dramatic new significance: the multiple references to death, not least in two song titles, the requiem strings on "Last Night I Dreamt That Somebody Loved Me", Morrissey's entrance as "The ghost of troubled Joe" - surely, these were all coded references to the band's imminent and apparently inevitable end.
But though the wailing and gnashing of teeth was deafening that autumn, the mourning masses really ought to have stopped for a moment to consider exactly what they'd been so generously bequeathed. For if The Smiths' split was the cause of much funereal breast-beating, the album that followed in its immediate wake was, by contrast, glorious and intoxicating.
Far from being hopelessly maudlin (anybody whoever accused The Smiths of being miserable was desperately lacking anything approaching a sense of humour), the album possesses a playful spirit of self-parody, coy lyrical double-entendres and mischievous in-jokes - there's the obvious "Stop Me If You Think You've Heard This One Before", for instance, Morrissey's "It's crap I know" aside during the rockabilly chainsaw farce, "Death At One's Elbow", the line, "You just haven't earned it yet baby", itself a previous song title, slipped into "Paint A Vulgar Picture", and the closing lullaby, "I Won't Share You".
Familiar themes are revisited with deft maturity, not least in "Last Night I Dreamt That Somebody Loved Me" - two minutes of distant, tortured jeers and reflectively sombre piano before all hell and its orchestra breaks loose in a dramatic, Walker-esque climax. Morrissey is the heir of nothing-in-particular once more - older, world weary and rapidly losing the fight.
As far as unknown pleasures go, Strangeways' best kept secret is "Death Of A Disco Dancer" - as ambitious a record as The Smiths ever made, with a lush John Barry score sliding into the psychedelic bedlam of "Venus In Furs", and Morrissey spotlighting the fragile myth of the blossoming rave scene with a politely condescending "Very nice". It was unlike anything they'd previously attempted, but still definitively and unmistakeably The Smiths.
"Paint A Vulgar Picture" is the album's other late milestone. An indictment of the music business and its mercenary imperatives, it is funny and cruelly honest. Given the circumstances of its release on Strangeways, it's not surprising it was subject to perhaps over-zealous scrutiny at the time. The shrewd - even unscrupulous - marketing of extra tracks and "tacky badges" remains a legitimate target for such bravura satire, but the song's most damaging blows are aimed at those on the extreme right of fandom's diverse political spectrum, the kind of character Morrissey knew and knows only too well. His tone here is both that of sympathetic agony aunt and wicked, wicked mockery, the track ending with his (quite purposely) audible wretching. Tucked between the more epic numbers are songs no less striking. From the decidedly glam "I Started Something I Couldn't Finish", with its infectious "Typical me" refrain, to the acid-tongued "Unhappy Birthday" and the military two-step, piano-led opener, "A Rush And A Push And The Land Is Ours", Strangeways is indeed the most diverse collection The Smiths ever assembled.
Asked in 1994 to comment on Johnny Marr's remark that Strangeways was their best album, Morrissey gave a typically Wildean reply. "Well, it is," he said. "We're in absolute accordance on that. We say it quite often. At the same time. In our sleep. But in different beds."
When The Smiths split, there were those for whom it seemed not much less than the end of the world as they knew it. And the reputation of Strangeways has suffered as a result of such over-reaction. The album is too often seen as "an epilogue", the last wheezing gasp of an exhausted band.
Don't you believe it!
The musical inspiration that originally aroused such gladioli-waving mass hysteria was never more impressive, never more realised, never more accomplished than on Strangeways, Here We Come, an album whose considerable qualities were so frustratingly overlooked in the anguished vortex of late 1987.
It's The Smiths' masterpiece."
- Simon Goddard, Uncut, October 1997
"For a band that reportedly hated each other when they made it, the Smiths managed a surprisingly cohesive farewell statement on Strangeways Here We Come. They sure haven't cheered up, as titles like 'Unhappy Birthday,' 'Girlfriend In A Coma,' and 'Last Night I Dreamt That Somebody Loved Me' make clear. But Morrissey can see the dark humor in the misery, and his world view has grown from self-pity to real compassion."
- Pulse
Tomb It May Concern
"'Man that is born of woman hath but a short time to live and is full of misery. He cometh up and is cut down like a flower. He fleeth as it were a shadow, and never continueth in one stay' (Anglican Funeral Service).
The Smiths are, after all the speculation, finally heading the queue for the Crem. Look at the pit they dug themselves: signed to deadly EMI; Johnny Marr - the decade's most original rock guitarist and musical keystone of the combo - had done a runner, and Mike Joyce followed, while bass player Rourke struggled on with his drug problem. Surely the odds stacked against them creating another flawed Meat Is Murder, let alone an LP of universally-acclaimed quality like The Queen Is Dead?
Predictably, in these circumstances, Strangeways... finds Morrissey with one hoof heavily into his sarcophagus. From the opening line of the positively raunchy 'A Rush And A Push And The Land Is Ours' - 'I am the ghost of troubled Joe' - it seems as if he's determined to give his fun 'n' money-lovin' critics as much ammo for derision as humanely possible. He even seems to relish calling a song 'Stop Me If You Think You've Heard This One Before', in the face of those who perpetually take the piss out of him and reckon that every Smiths song sounds the same.
To my ears the major criticism of Morrissey has been that he's a miserable defeatist who encourages negative, rather than positive, responses from his admirers. There's some truth in this, as revealed here in 'Death Of A Disco Dancer' and 'Death At One's Elbow', the weakest links on 'Strangeways...'. The first is overlong (like 'Barbarism...') and, despite Marr's ingenious plinky-guitar crescendo, totally predicatable: 'love, peace and harmony/love, peace and harmony/Oh very nice, very nice, very nice, very nice/but maybe in the next world'. The second is fast and furious and as much of a slim self-parody of The Smiths' best as 'Sheila...' and 'Shoplifters...' were.
But it's the weird balance of Morrissey's mortal humour with Marr's beatific melodies that establishes The Smiths' final greatness. Mozzer as the jilted, unrequited lover, 'The one you left behind' who spoils the party with 'Unhappy Birthday' wishes: 'drink, drink, drink, and be ill tonight'; Mozzer as the 'hairbrushed and parted' provocateur of 'I Started Something I Couldn't Finish', a classic pop song that seems to echo - believe it or not - the treasured oeuvre of T.Rex, Mud and The Glitter Band!; Mozzer as the emotionally dithering laddo in 'Girlfriend In A Coma'. The point, of course, is that pop is a confidence trick; it pretends it's a world of harmless entertainment and yet continually bombards us with the we're-having-a-good-time-and-there's-something-seriously-wrong-with-you-if-you're-not philosophy; a world where 'people who are weaker than you and I/they take what they want from life' ('A Rush And A Push...'). In response The Smiths tackled bloody serious subjects in tandem with addictive tunes; Morrissey could turn spina bifida into a Top Ten hit and probably will.
Those who believe that Steven Patrick Morrissey should address himself to the political affairs of this nation will again be disappointed. Lyrically he fails to allude to Roy Hattersley's girth or the indignity of Labour, and instead continues to mine that seam of fatal realism. Excuse me, but Saul Bellow observed that 'Ignorance of death is destroying us. Death is the dark backing a mirror needs if we are to see anything.' And it often seems that Morrissey's philosophy and humour (like Woody Allen's) arises from a similar obsession with the inevitability of turning one's toes up, of popping one's clogs. Hence the emphasis on life's priorities like love, sex, laughter and bicycles.
'No, don't mention love/I can't take the strain of the pain all over again.' Love, sex and death remain constants in The Smiths' Strangeways... songs. The universal appeal still stems from Morrissey's comic, deliberate ambiguity about who he can and can't have: 'I grabbed you by the gilded beans/That's what tradition means.' He's sexy and risque but never crude or sordid; he wears his heart on his sleeve, I see no reason why he should have to make clumsy public proclamations about his sexual preferences.
In the same way that he took time out on Meat Is Murder to propound vegetarianism and on The Queen Is Dead to satirise his own Wilde-like plagiarism, on Strangeways... it's Rough Trade that get the treatment. 'Paint A Vulgar Picture' is a bitter attack on the label's exploitation of the band's success - 'At the record company party/on their hands a dead star' - and on its marketing ploys: 'satiate the need, slip them into different sleeves, buy both and feel deceived', 'please the press in Belgium'. Morrissey also deprecates his own status as 'spokesman for a generation', pokes fun at his fawning fans' alarmingly close identification with him and his beliefs ('I walked apace behind you at the soundcheck, you're just the same as I am'), scoring a direct hit on people like me.
Morrissey's assured us that 'it's impossible for anybody to change me as an individual, and it's certainly impossible for a record company to change me'. Thus The Smiths had sentenced themselves to that Strangeways of pop, that long-term institution, EMI; a multinational which seemed to celebrate news of the split with the tell-tale comment, 'essentially we now have two acts for the price of one'.
Whether Morrissey or Ferry-sidekick Marr can thrive in this new environment remains to be seen but, listening obsessively to 'Strangeways...' I can't help feeling that this is a once in a lifetime partnership, a uniquely complimentary marriage of talents that's developed from a long-established friendship.
Coming to Strangeways... I was half prepared to put the boot into The Smiths. I was sure that mid-production upsets - the breakdown in communication between Mozz and Marr (the absence of Marr's beloved B-side instrumentals from the last four singles and Marr's remaining close to sacked Smiths manager Ken Friedman) - would tarnish its quality. But Strangeways... contains two of Morrissey/Marr's greatest moments since the Fab Four's inception.
There's the warm Mersey acoustics of the final track 'I Won't Share You', which beautifully echoes both 'Back To The Old House' and 'You'll Never Walk Alone'. And, outstandingly, there's 'Last Night I Dreamt That Somebody Loved Me' - which builds from atmospheric solo piano and madding crowd noises, then explodes into Morrissey's most emotional unloveable vocals, and reaches a 'Wild Is The Wind' falsetto climax coupled with a thousand violins. It's as great as 'I Know It's Over'.
I don't think there's any point in comparing The Smiths with their pop contemporaries; a couple of dodgy singles aside they remained above and beyond the rest, ploughing their own furrow (digging their own grave?), setting their own standards. I passionately hoped this was not to be their last breath, but nevertheless, in case you haven't guessed by now, Strangeways, Here We Come is a masterpiece that surpasses even The Queen Is Dead in terms of poetic, pop, and emotional power.
Yes, very nice, very nice, very nice, very nice..."
- Len Brown, New Musical Express, 12 September 1987
"'This story is old - I know/But it goes on,' bleats Morrissey on the Smiths' fifth album. Perhaps it will, but not in this form. Recorded last spring, before guitarist Johnny Marr left the band (followed in turn by Morrissey's announcement that he would pursue a solo career), Strangeways, Here We Come stands as the Smiths' unexpected swan song. Ironically, it also stands as one of their best and most varied records: much like R.E.M. on Document, this is the sound of a band unbuttoning its collective collar despite the problematic artsiness of its lead singer.
If you've ever considered Morrissey a self-obsessed jerk, Strangeways, Here We Come isn't likely to change your mind. He's still indulging in angst chronicles like 'Last Night I Dreamt That Somebody Loved Me,' which is saddled with a turgid, string-drenched melody to boot. But throughout the album, Morrissey keeps returning to the themes of death and parting ('I Won't Share You,' 'Death at One's Elbow'), almost as if he had seen the breakup coming, and dishes out bitter indictments like 'If you should die/I may feel slightly sad' ('Unhappy Birthday'). And in 'Paint a Vulgar Picture,' a bittersweet elegy to a dead rock star, Morrissey makes the mistake of putting down record-company marketing ('Reissue! Repackage!/Reevaluate the songs/Double-pack with a photograph') on an album that has a merchandising address printed on its inner sleeve.
Morrissey is much more effective in 'Death of a Disco Dancer,' which pinpoints Marr's importance to the band, as it builds from his scraping-fingernail fret work to a cacophony of guitars and keyboards. Throughout Strangeways, Here We Come, Marr - who's credited with strings and saxophone arrangements as well as guitar and piano - continually conjures up rich, Gothic frameworks for Morrissey's ornate phrasing.
Bright acoustic guitars add a folksy grace to 'Girlfriend in a Coma' and 'Unhappy Birthday,' and a pumping piano turns 'A Rush and a Push and the Land Is Ours' into a demented tango. In the album's most propulsive number, 'Stop Me If You Think You've Heard This One Before,' Marr and the Andy Rourke-Mike Joyce rhythm section whip up a frenzied brew that amply compensates for Morrissey's tale of rituals of self-punishment following a failed love affair. Marr's piercing solo at the end of the song not only is one of the record's emotional highlights - it also proves it's best the band split up rather than attempt to replace him."
- David Browne, Rolling Stone
"This is the Smithses [sic] last album as a group. What killed them? Was it mizzable yet oddly detached songs like 'Girlfriend In A Coma,' 'Paint A Vulgar Picture' and 'Unhappy Birthday'? Is it because the song titles are longer than the actual songs, i.e. 'Stop Me If You Think You've Heard This One Before' - ironic, ain't it, since it's the only song that vaguely resembles the kind of good work that the Smiths used to do - and a few more I don't even have to mention.
All this is fine and dandy - after all, one of The Smith's [sic] best tricks of old was weird novel-length titles and clever word play. However, the ingenuity of a dog playing dead gets a little boring after a while, and so does the constant WHINING of lines like 'I was delayed, I was waylaid/An emergency stop/I smelt the last ten seconds of life/I crashed down on the crossbar/And the pain was enough to make a shy bald Buddhist reflect and plan a mass murder.' But will it make him shut up?
On The Queen Is Dead, Morrissey somehow painted melancholy little vignettes of life that were very touching. How is it that most of the songs on Strangeways seem false, spiteful and sort of bitchy? Surely internal strife must have affected them, but certainly not in a depressingly constructive manner. Some of the songs don't even sound as though they were written together. And I never thought it was possible, but Morrissey's usual moany, groany voice and Johnny Marr's (somewhat) cheery guitar work, a combination that was so endearing on The Queen Is Dead, now just seems really trite and uncomfortable and untogether - something like that monthly pain they talk about on TV. This is not exactly the way I wanted to remember them."
- Suzan Colon, Star Hits